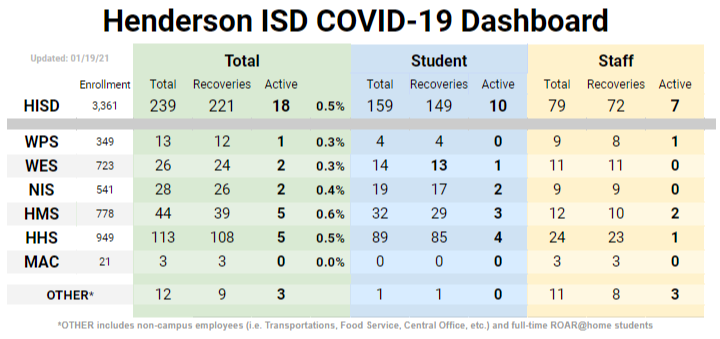 New positive cases
(January 19, 2021) Henderson ISD has been informed of five additional cases of COVID-19.
Two elementary school students who were last on campus on January 14, 2021.

One middle school student who was last on campus on December 19, 2020..




One primary school employee who was last on campus on January 19, 2021.

One central office employee who was last at work on January 14, 2021.
This brings our total reported cases to 239 with 221 recoveries leaving 18 currently active cases in the district. HISD's total enrollment is currently 3,361.
We are notifying all staff and parents of students who may have had close contact with the students or employees. The areas of campus where the students or employees had contact are being cleaned and sanitized. Out of an abundance of caution, we are asking all of the students and staff on the affected campuses to continue monitoring their health and checking for symptoms on a regular basis.
Please visit HendersonISD.org/COVID for updates. We wish all speedy recoveries.