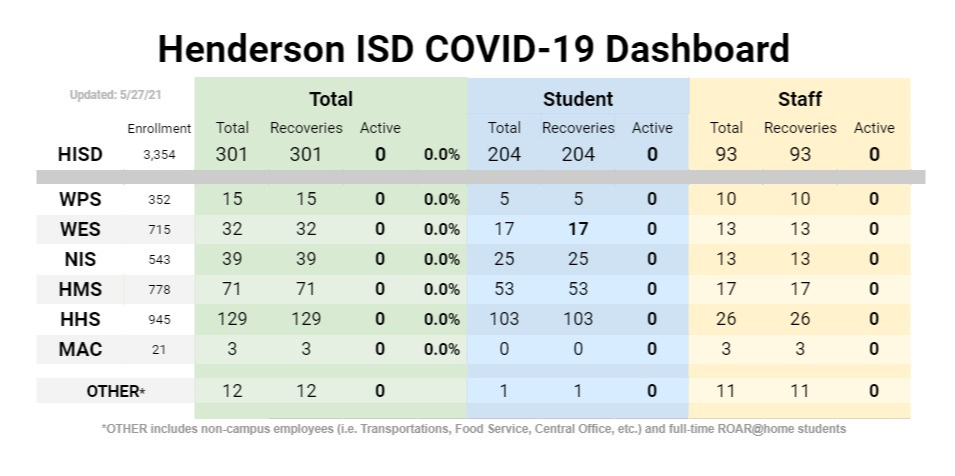 NOTE: The Dashboard numbers above man differ from the totals below since the dashboard includes updates to cases and recoveries that may have been reported since the last press release. Press releases are typically published weekly on the last school day of the week.
New case and recoveries identified
(May 14, 2021) Henderson ISD has been informed of five additional cases of COVID-19.
one northside student who was last on campus on April 21, 2021.

one middle school student who was last on campus on May 6, 2021.

one middle school student who was last on campus on May 10, 2021.


one elementary school employee who was last on campus on April 30, 2021.

one high school employee who was last on campus on April 19, 2021.
This brings our total reported cases to 301 with 297 recoveries leaving 4 currently active cases in the district. HISD's total enrollment is currently 3,360.
We are notifying all staff and parents of students who may have had close contact with the students or employees. The areas of campus where the students or employees had contact are being cleaned and sanitized. Out of an abundance of caution, we are asking all of the students and staff on the affected campuses to continue monitoring their health and checking for symptoms on a regular basis.
Please visit HendersonISD.org/COVID for updates. We wish all speedy recoveries.
(March 9, 2021) Dear HISD Family of Parents, Students and Staff,
Henderson ISD is committed to doing what is best for our students for the remaining 10 weeks of school and will continue to follow the established safety protocols we have used all year, including masks or face shields. This decision is based on a variety of considerations including:
HISD's safety protocols have worked. The number of active infections is currently low and has steadily declined. HISD has not experienced widespread transmission of COVID-19 on our campuses, and since August has only twice, in very limited situations, had to restrict in-person learning. This has meant more instructional time for students and less time in quarantine for our teachers and staff.
Texas only a few days ago added teachers to the vaccine eligibility list. This means that teachers and staff who choose to be vaccinated are only now able to do so. Since the most common vaccines require two doses, the process takes at least 42 days meaning it is unlikely that all teachers who want the vaccine can be fully vaccinated before the end of the school year.
Local health authorities in Rusk County, along with the Rusk County Emergency Management Office, are encouraging everyone in our area to continue frequent hand washing, social distancing, sanitizing of heavily touched surfaces, and wearing face coverings when needed.
Removing the mask requirement would require a larger number of teachers and students to be regularly quarantined when new cases are reported due to close contact rules still in effect from the Texas Education Agency and the CDC.
Over the next weeks and months, HISD will continue to monitor infection trends in our schools and the community and will adapt our approach to prevent and minimize the spread of COVID-19, especially as we plan for the 2021-2022 school year.
We ask for your continued diligence as well, knowing that only by working together can we be successful in protecting our students and empower them to achieve their dreams. #LiveLikeYouROAR!
Sincerely,
Dr. Thurston Lamb
HISD Superintendent